"To finally cross that finish line will be so rewarding after all the handwork it took to get there."
Otto Ohlsson, one of our London Marathon runners for 2014, reveals why he has joined Team TSA and his marathon journey so far. To follow all the TSA marathon runners on Sunday 13 April visit our Twitter feed @UKTSA
I have been living in America for almost 9 years now, so I was here (the US) when Millie was diagnosed with TS. It was really difficult to not be there for my sister and her family while they were going through all of that, but thankfully we were able to Skype and talk on the phone as much as possible.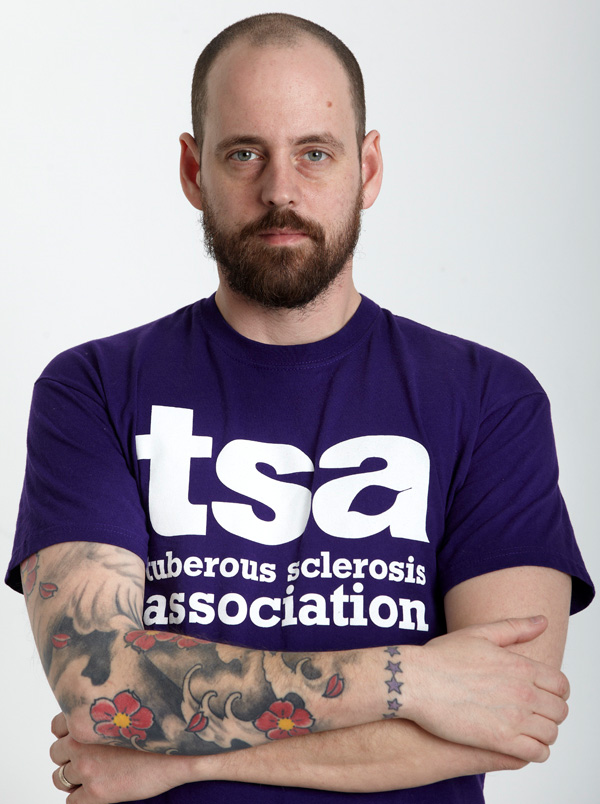 I love spending time with Millie- she's my first and only niece at this point. I guess I am a kid at heart myself because I like to teach her all the things I am not supposed to, like sticking her tongue out.
I am the lead singer/guitar player for an indie rock band called Into Arcadia which was formed in 2008.
Before Into Arcadia I was a solo artist, which is how I ended up in the United States.
Currently the band is on hiatus while we all take time to work on our own individual projects. I have just finished building a studio in my home, but with all of my time spent training for the marathon, that's as far as I have gotten in my pursuit. After I get home from London I plan on starting my solo album, which will tentatively be released in the fall of 2014.
Last year my wife Brandis opened Ohlsson Model Management and she has been using that platform to help me raise money for the cause. And my sister has been a wealth of information helping me build the Just Giving page and helping me get the word out. When she ran the marathon for TS in 2012 my wife and I held a benefit concert where Into Arcadia played and we raffled off prizes from local businesses to help raise money for the foundation.
I am running the London Marathon not only to benefit Millie and the TS foundation, but to finish the trifecta- both of my sisters have run the London Marathon, and as the only sibling who hadn't I figured it was my time. And selfishly running the marathon will be an accomplishment for me like no other I could experience.
Training has been tough if I am being completely honest- I have had a few injuries which have tripped me up a bit, and we have had a really hard long winter, lots of snow and dangerously cold temperatures, so a lot of my training has taken place inside a gym. When I am not running I am lifting weights. If nothing else this experience has really made me access and change my lifestyle. My diet has changed and I'm being a lot healthier- it's been a very beneficial life change. I've never felt better.
The goal I have for the London Marathon is to finish, and I am really looking forward to finishing! The training and everything leading up to the marathon has been, again, such a change for me. A wonderful change, but a change. To finally cross that finish line will be so rewarding after all the handwork it took to get there. I am really looking forward to that moment.
Fundraising is going well, but it's not as easy as it used to be. When my sister ran and we held the benefit concert it was almost too easy. Not so much this time though. I think people are just bombarded nowadays with Kickstarter campaigns and the likes of them, that they're just sick of being asked for money even when it's for such a great cause. I also think it's a little more difficult because I'm living in America and asking people to help me raise money for an English charity while I run the London marathon. They just aren't getting it.
I love my family very much, and I am really thankful to be able to do something like this for Millie. I don't get to see them very often because we're separated by an ocean, but this has really made me feel closer to them.
You can sponsor Otto via his JustGiving page and leave a message of support on our Facebook page.