Newsletters and TSA magazine (Scan)
How to keep in contact with the Tuberous Sclerosis Association through email newsletters and our community magazine
At The Tuberous Sclerosis Association (TSA), we are proud of our non-stop effort to improve the lives of people affected by Tuberous Sclerosis Complex (TSC) through support, research and advocacy.
With so much going on at the charity, it is important to keep our community updated on everything that we are doing. Two of the ways that we do this are through semi-regular email newsletters and our monthly magazine, Scan.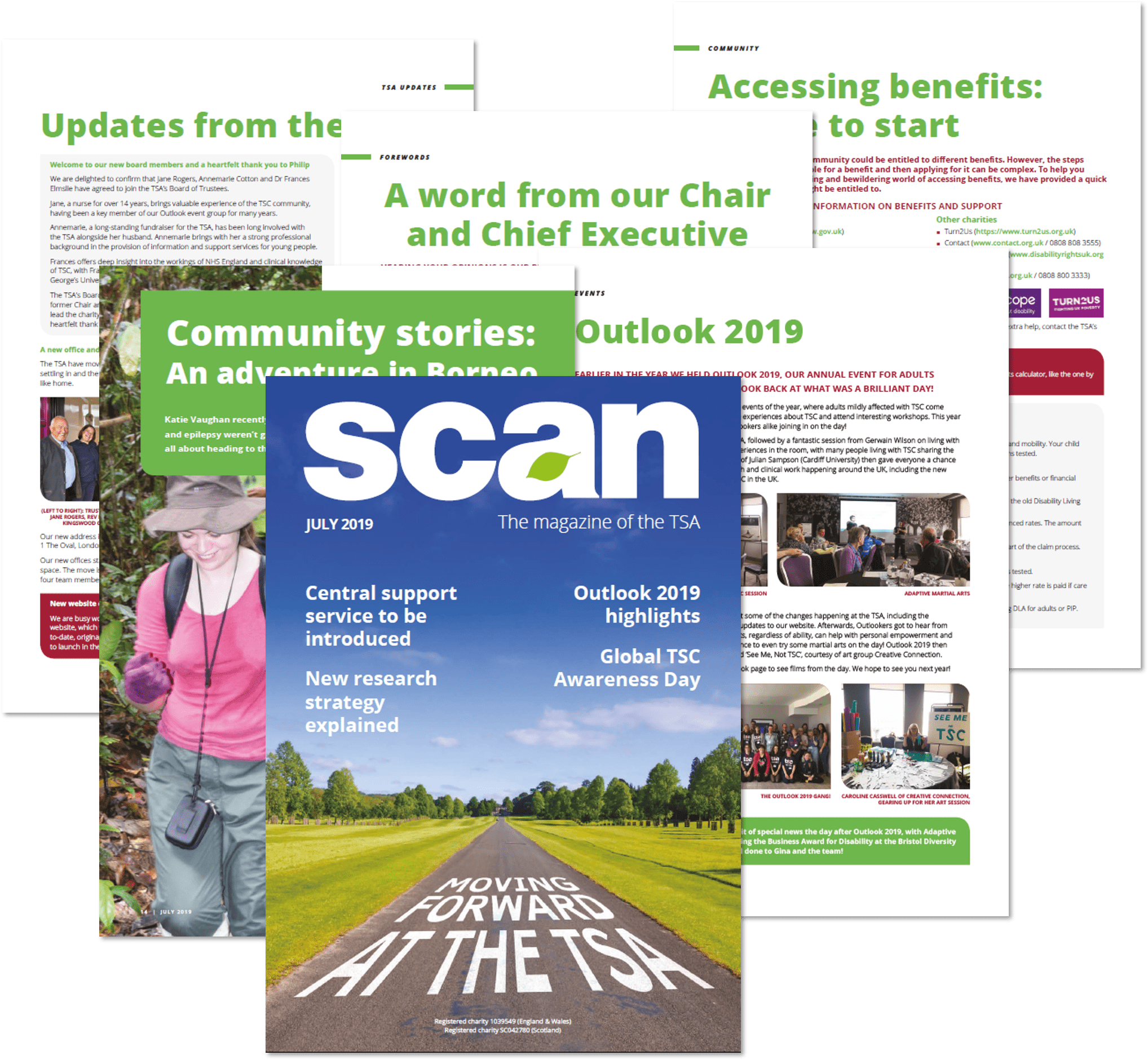 TSA community magazine, Scan
Three times a year we publish and distribute the TSA magazine, Scan, to our community.
Alongside our website, email newsletters, social media and events, Scan gives us the opportunity to keep the TSC community updated on what we and others have been doing to improve the lives of people affected by TSC.
You'll find all-things TSC and the TSA in Scan, with our community magazine being published from the very early days of our charity to the present day.
You can even have Scan posted to you free of charge! Alternatively, you can read the latest and previous issues on our website.
Sign-up to receive Scan and our email newsletters
You can receive Scan and out email newsletters by out the following form.
Please see terms of use and how we might use the data you provide below.
Terms of use and privacy
Please note that we will use the personal information that you enter in this form to send you TSA newsletters and/or Scan in the future. You may unsubscribe at any time. For more details please see our Privacy Notice.
We use MailChimp, an external marketing tool, to send our newsletters. By signing up to receive email newsletters from us, you acknowledge that you are happy for the information you provide to be transferred to MailChimp for processing in accordance with their Privacy Policy and Terms.
Make a one off or regular  donation
£10 Means that we can send a support pack to a family who has just received a life-changing TSC diagnosis, ensuring that they do not go through this time alone.
£25 Can help us develop materials that are included in our support services, flagship events or campaigns.
£50 Can provide laboratory equipment for a day's research into the causes, symptoms, management or treatment of TSC.
To provide help for today and a cure for tomorrow.