Information about the wider objectives, aims and targets of the Tuberous Sclerosis Association in improving the lives of people affected by Tuberous Sclerosis Complex
The Tuberous Sclerosis Association (TSA) was launched in 1977 with a membership of 50 families and funds of just £25. We have grown from a round robin support letter to a professional organisation providing support to families affected by Tuberous Sclerosis Complex (TSC) across the UK.
The TSA is a registered charity with three charitable objectives:
To support individuals affected by TSC, together with their families or carers
To encourage and support research into the causes and management of TSC
To provide education and information
We look to our past to retain our community spirit, but drive forward by pushing the boundaries of what a small and dedicated team is capable of achieving.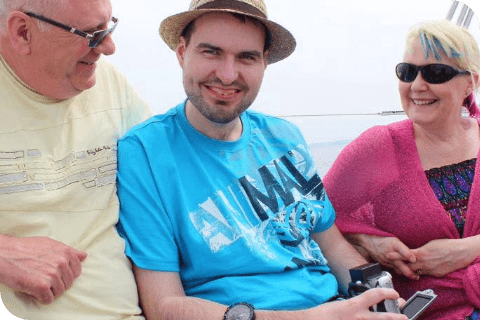 Our five-year strategy
The TSA has a five-year strategy covering the period 2019-2023 to REACH more people, drive more REseArCH, and balance the books to secure the long term future of the charity.
Our vision is a world where TSC and its effects are conquered.
Our mission is to provide help for today and a cure for tomorrow.
Our strategic aims (what we will do) are to:
Make a positive impact on the health and wellbeing of people living with TSC and their families and carers
Lead research into tools, technologies and treatments which eliminate the effects of TSC
Lead innovation in the integration of medical and social care services
Our strategic objectives (how we will do it) are to:
Provide good quality, easily accessible and timely information about TSC and about living with the condition
Provide the opportunity for people with TSC and their families to connect, support and learn together
Capacity build the knowledge and expertise of professionals working with people with TSC
Drive the research agenda with the aim of improving outcomes and quality of life for people with TSC
Expand our understanding of the condition to accelerate diagnosis, intervention and development of new treatments
Disseminate and use evidence to influence NHS policy and practice
Campaign for better access to treatments and care from the NHS
Support the development of centres of excellence for supporting people with TSC and their families
Pilot, then roll out, innovative approaches to whole person, family and carer support
Our enablers (the things that will make it possible) to deliver the strategy are:
Effective teamwork by staff working together to achieve a shared vision
High quality, integrated financial management
Digital transformation and smart working to reach more people
An enterprising approach to income generation to drive more research
Our values (the things we believe are important) are to be inclusive, ambitious and effective.
Our company and charity information
Our registered address is TSA, Unit 56, 1 Emma Street, London E2 9FP.
Tuberous Sclerosis Association is a Company Limited by Guarantee registered in England and Wales (No. 2900107) and published information is available from the Companies House website.
Tuberous Sclerosis Association is a Registered Charity in England (No 1039549) and Scotland (No SC042780) and published information is available from the Charity Commission and Office of the Scottish Charity Regulator websites.
Make a one off or regular  donation
£10 Means that we can send a support pack to a family who has just received a life-changing TSC diagnosis, ensuring that they do not go through this time alone.
£25 Can help us develop materials that are included in our support services, flagship events or campaigns.
£50 Can provide laboratory equipment for a day's research into the causes, symptoms, management or treatment of TSC.
To provide help for today and a cure for tomorrow.