Wow, where to start to try and distil all the
info action from today!!! The TS Alliance have pulled off an amazing conference,
so well organised bearing in mind there are over 800 delegates! Where else in
the world can you have breakfast with a lovely TSC family from Arizona and
lunch with a geneticist from Mexico. Who knows what dinner will hold!!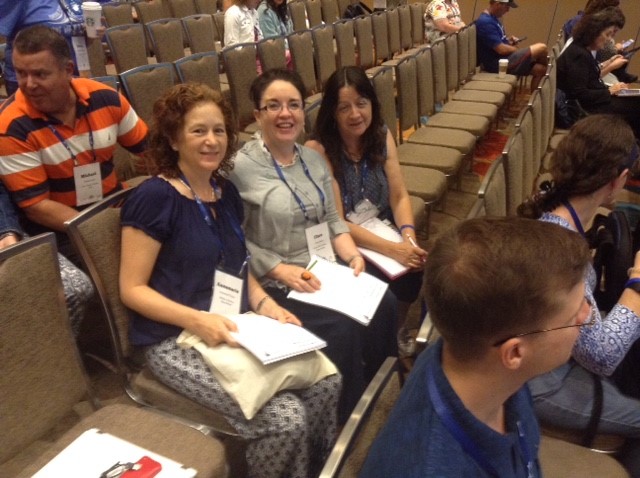 So some highlights from today. The first has to be Dr Chris Kingswood's talk on
his own experience of being a parent to a daughter with TSC and his
thankfulness for the community he is both part of and pioneers for in the UK.
Having heard about a family who travel from India to US for treatment, we are
so lucky in the UK to have access to such expertise.

Secondly has to be the session on sleep and TSC. Sleep and disability has long
been a passion of mine and so to hear experts speaking with such clarity and
openness was inspiring. As a parent once told me, "If sleep works,
everything works" Definitely a note to self to look at how we develop more
resources in this area in the future.

Thirdly, was the session on women's health and reproductive choices. The room
was buzzing with questions from women with TS and parents who wanted to support
their daughters in the future. What an opportunity to have questions so
honestly answered.

One of the overriding messages of the day was of hope. We have come an long way
in a short time in TSC knowledge, but there is more yet to do. I think
anyone who heard Laura the parent from Mexico speak so movingly about her her
child going into status, knows that the journey for parents can be tough. But
Laura is an example of the many thousands of parents out there who refuse to
have their child's development dismissed and fight to help their child reach
their full potential.

And I think after today, I have finally begun to understand the research into
fruit flies and how this informs our work into TSC (our Head of Research will
be pleased!)
So I am looking forward to meeting more of the global TSC community over
dinner. I hope the parent I met this morning who has a 25 year old son has
finally met other TSC families for the first time. Connections in the rare
disease world are so important.

I might just need to dig out those notes on sleep issues later though to see if
it can get any advice on combatting my jet lag!! More tomorrow from
Texas. Goodnight Y'all.