"I have been fundraising using social media and have had success using the old-fashioned sponsorship paper and pen."
Adam Pothecary, one of our London Marathon runners for 2014, on training, fundraising and his expectations for the big day. To follow all the TSA marathon runners on Sunday 13 April visit our Twitter feed @UKTSA
Having complete four half marathons in as many years in Bath & Cardiff, this year I have entered the London Marathon. While I hope for the personal achievement of completing the marathon, this is primarily in the hope of raising further money for TSA. I chose to raise money for the TSA as my sister-in-law Amber suffers from a severe case of Tuberous Sclerosis and Epilepsy, hence this is an issue very close to my heart and that of my family.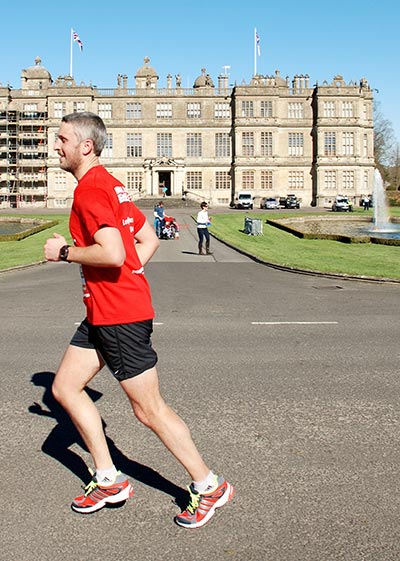 Across the four half marathons I have raised £1100 so I am looking forward to the challenge of not only running and completing the race but to raising further money for a great cause.
I have now been training for the marathon since January 1st and have been, as far as possible, following a training plan downloaded from the BUPA website which has suited my abilities and time allowances. This has been challenging at times because I can be away from home with work, it is sometimes hard to be able to find somewhere suitable to run. Also completing the long distances required in the latter stages of training can be hard, especially considering some of the weather we have had, however being aware of the massive benefits these sessions brings helped to keep me going. I also referee football matches at a local level which has been a great supplement to my training while doing something I enjoy. I have a Garmin GPS watch, a great present from my wife Kayleigh, which has been extremely useful for timings, pace & distances when running. It also has an associated web-site where I can plan routes in advance.
Thus far I have been mostly fundraising using social media and have had good success using the old-fashioned sponsorship paper and pen, including friends from social activities. My father-in-law has also been handing forms to the Hockey club both he and my wife play for which has ten teams – I am hoping for some good results from this as well. I am also in the process of planning a fundraising football match between a club I used to play for and some local referees. Unfortunately due to the adverse weather this has not been possible prior to London, however I hope this can be arranged and played mid to late May, once the season has finished.
While I have run half marathons before, which at Cardiff especially can be up to 20,000 runners, I am very much looking forward to the scope, scale, distance and challenge of running the London Marathon. My wife and I are staying just outside London the night before on a 'Marathon' package which promises to get us to the start line in good time (I certainly hope so!), which means some of the pressure is off in terms of travel that morning. We are planning to register on the Saturday which may give some time for shopping in London as well. I'm also looking forward to the post marathon event that the TSA is hosting, it will be a great opportunity to meet some of the people involved in the TSA and especially the other runners and exchanging our experiences of the run and the day itself. From there it will be back home to Westbury and seeing our two girls again, Ariana and Branwyn, after a weekend away.
You can sponsor Adam on his Virgin Money Giving page and leave a message of support on our Facebook page.