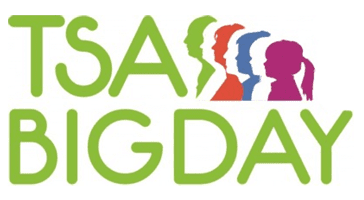 There will be no Big Day in 2020 – the event will return in 2021
This year, the Tuberous Sclerosis Association (TSA) will host the prestigious International Tuberous Sclerosis Complex Research Conference 2020 in the UK.
Community members are invited to join the conference during the Community Research Education Afternoon, on Saturday 14 November 2020 in London.
Please note: Big Day and the Community Research Education Afternoon have different intended audiences. The Community Research Education Afternoon offers the opportunity to hear lectures from academics and clinicians regarding research into the diagnosis, management and treatment of TSC.
What is Big Day?
Big Day is the TSA's opportunity to get everyone in the Tuberous Sclerosis Complex (TSC) community together – from people living with TSC and their loved ones to clinicians and academics – to share experiences, get to know each other and hear about all-things TSC.
At Big Day you can expect to:
Be in an environment where people understand the impact that TSC can have on lives, with significant time allowed for networking
Discuss a range of topics, all focused on TSC, from external experts based around the UK
Have the opportunity to meet and get to know individuals and families affected by TSC
Take part in different workshops and talks, all specially designed to help the TSC community understand and access support, services and care
Take a look at the Big Day 2019 event guide to get a feel for what you might expect at the next Big Day!
Make a one off or regular  donation
£10 Means that we can send a support pack to a family who has just received a life-changing TSC diagnosis, ensuring that they do not go through this time alone.
£25 Can help us develop materials that are included in our support services, flagship events or campaigns.
£50 Can provide laboratory equipment for a day's research into the causes, symptoms, management or treatment of TSC.
To provide help for today and a cure for tomorrow.