Like
Carole Hagan
, mum of two AnneMarie Cotton has been sponsored by the TSA to attend the TS World Conference in Dallas, run by the Tuberous Sclerosis Alliance. Here AnneMarie shares her pre-conference thoughts and expectations,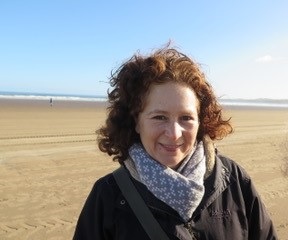 Please
tell us a bit about yourself, your daughter and your experiences of TSC?
Esme is 14 and loves horse-riding,
colouring, music and cooking (cakes mostly). She enjoys watching DVDs and
at the moment is watching The Greatest Showman and Mamma Mia a lot. She
was diagnosed with TSC at 4 months after having seizures. In terms of TSC
she has facial angiofibromas, small kidney AMLs, learning difficulties,
epilepsy, a SEGA and autism. She goes to a special school which she loves
and particularly likes going to Card Craft club, lunchtime youth club and
community sports where she does trampolining and Zumba. This year she
went on the school residential for 5 days to the Lake District and loved all of
the activities. TSC has been part of our lives for 14 years now and is
just part of Esme. She has achieved a lot and we know will continue to
learn and develop. Living with some of the challenges TSC presents has at
times been challenging for all of us – we are learning more all the time.
We have supportive professionals around us and are on very familiar terms
with the epilepsy nurse who is fantastic and the staff of the local Boots as we
try to find the right medication for Esme's seizures. The rest of the
family is me, Steve (Esme's dad) and Jacob (her older brother). I work
for the local authority in their Information, Advice & Support Service
where I support families with a child or young person with special educational
needs and help them understand the SEN system and get what they feel is best
for their child.
How have
you been involved with the TSA over the years?
We contacted the TSA soon after our
daughter was diagnosed and have used the our Regional Advisors on and off over
the years. We have attended a couple of the TSA Conferences/Big Days when
circumstances have allowed. We have taken part in research projects and
are part of TS 2000. I took part in a telephone interview and our family
was a case study in an annual report where we spoke about our experience of
working with TS researchers. As a mature student on a Speech Therapy
degree course I did a small research project on how families with a child with
TSC access Speech & Language Therapy and the results were published in
Scan. I have recently been speaking with Clare Kassa, the TSA's Head of Information and Support, about sharing my current
work experiences at either the Big Day or through SCAN around accessing support
relating to Special Educational Needs. We regularly keep up to date with
what is going on in the world of TS through the TSA website. My husband
and I fundraised for the TSA by running the Chester Half Marathon a couple of
years ago and have got places to take part in the Great North Run for the TSA
this year.
What made
you apply for the conference bursary?
The
opportunity to attend a conference somewhere that otherwise would not be
possible.
What are you
hoping to get out of the conference?
I hope to gain knowledge and information about the latest research into
treatment options for those affected by TSC. I also hope to make
connections and become better informed about available resources. Attendance at
the conference would give me a greater depth of understanding of treatment
options and how research is moving forward. This will allow me to better
help my daughter get the best from the professionals who support her. I
also hope to bring home the latest information and be able to share it through
the TSA with others in the TSC community. I would love to be able to share with
others at the conference the work that the TSA does and the support it gives to
families. On my return I hope to be able to give a first hand account of
the conference talks and will welcome every opportunity to pass on information
that I gain. I work as an information, advice and support officer
supporting families with a child with SEN and in my daily work am used to taking
complex information and presenting it to people in a more easily understood
format. I have a degree in a science subject and am confident at
understanding scientific terminology and research presentations. I am
friendly and outgoing and am looking forward to making the most of this
opportunity to meet and get to know other families affected by TS from across
the world.
What
sessions and events during the conference do you hope to attend?
I envisage splitting my time across the different
conference streams as far as possible. Because of my daughter's age
and the number of ways TS affects her I am interested in talks covering
childhood, transition and adulthood as well as some of the more specialist
talks e.g. mental health issues.
What excites
you most about the conference? Everything! The content, the chance to meet new people, and, the fact that it is in Dallas
which is somewhere I have never been.